Unique & Memorable Incentive Travel
Incentive Travel House, Inc. is a full-service travel company that has specialized in Incentive Travel and Meetings for more than 35 years.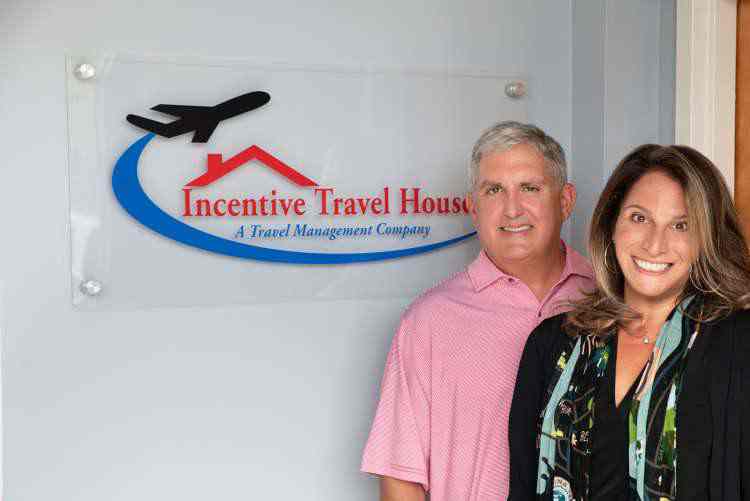 Testimonials
Our company believes in our incentive travel programs. We believe that this helps set us apart from our competition. We have been fortunate enough to work with Sandra and Dan, and their terrific team, for the last 6 years. They know the resorts that customers like ours want to experience all over the world. We have been privileged to go to numerous islands and countries, including Europe. Our groups are large, which creates problems in itself, but their attention to detail, and knowledge of the local industry services available, make it all work without problems. Besides the fact that they have now become more than a business partner, and have become friends, I think the biggest reason that we enjoy working with them is that they think of everything…in advance.
Sandra is an expert in the travel industry and is familiar with the finest destinations for personal or business travel. She manages both large and small trips for our dealer members. All aspects of the trips and every detail for the travelers comfort are coordinated professionally. Feedback that we receive from our dealers that have participated is always the highest quality. Sandra also manages many of our dealer members incentive travel trips for their independent companies in which I hear very high praise. I would recommend Sandra and her staff for any types of travel plans, either on the business or personal side.
I have worked closely with Sandra and Dan Robinson from Incentive Travel House for the past 5 years. Their entire team is made up of dedicated professionals whom take the utmost care and attention to detail to ensure your event and trip go off without a hitch. They have a disciplined approach to ensuring your attendee's feel valued and recognized for their hard work, which in turn creates a culture amongst your team of wanting to achieve the next trip no matter what. Both Sandra and Dan are in tune with what's happening in the industry and have traveled extensively to ensure the properties they recommend have been thoroughly vetted by them and their team. As someone that has traveled most of the world as an organizer of incentive and recognition trips, I can highly recommend Incentive Travel House as your only source for one-stop professional Incentive Travel Services.
I have been using Incentive Travel House for years to book trips for both my business and family. The entire team goes above and beyond with their services. They will handle every step of planning your trip while making sure all details of your vacation go off without a hitch. My experience with Incentive Travel House has been nothing but excellent and I would recommend using their services for any of your travel needs.
My Company has entrusted Incentive Travel to be our exclusive travel reward provider for over 20 years. As a business owner, the most important thing to me is making sure my customers feel special and are well taken care of on each and every trip, and Incentive Travel has always exceeded my expectations! I found there is no better way to build a loyal customer base than traveling with them. In addition to being extremely loyal and trustworthy, Sandra, Dan and April go above and beyond when catering to our customers needs or request, their attention to detail is impeccable, and with constant and clear communication they make the process easy from start to finish. We are very fortunate to have Incentive Travel House as a vendor partner.
For over 25 years, Sandra and her great team have handled our company's incentive travel needs. We love the way they treat our customers before, during and after our trips and so do our customers. They always design great customer incentive programs for us that our customers talk about for years afterwards. I highly recommend their professional and friendly service.
Sandra and her team at Incentive Travel are the consummate professionals of the travel industry. What differentiates Incentive Travel is their meticulous attention to detail and their wealth of knowledge of world destinations. Whether we take our customers on an incentive trip or travel with others, we fully trust Sandra to design a trip that meets our needs. From food to hotels, from transportation to guides, from entertainment to exploration, Sandra demands excellence in every trip detail. We have traveled with Incentive Travel for over 15 years now and we have always had extraordinary trips.
I have had the pleasure of working with Sandra on many of our travel programs for the last 25 years. Incentive Travel House and their team provide us with the best options at an incredible value. They take the time to understand our needs and tailor each program accordingly. The team goes above and beyond in planning every minute detail and they consistently provide a "wow" experience. Our trip participants love our programs and appreciate the on-site customer service ITH provides. There is nothing cookie-cutter about the ITH experience!
Sandra, Dan and their team are absolutely the best in the business. We've used an incentive travel program for many years and prior to learning about Incentive Travel House, we used another company. There is simply no comparison. We pride ourselves on offering our customers a higher level of service and the folks at Incentive Travel House clearly understand that concept and apply it to our travel program. They treat our customers as their own. The level of attention to detail, follow up, sense of urgency and overall positive attitude are unique. The program Incentive Travel House designed for us has produced astounding results in building loyalty and growing our business with our customers. I can't say enough about the knowledge and experience demonstrated by the Incentive Travel House team. Working with them is a true pleasure.
I have been on many trips with Incentive Travel House and never been disappointed. Sandra and her staff know what customer service is and what their customers expect from them. They never fail to do whatever it takes to satisfy any need you might have. Everything about their operation is first class.